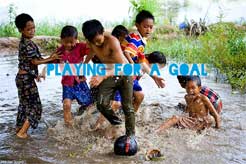 Two students, Sergi Sauras (Barcelona, Spain) and Valentina Cabanzo (Caracas, Venezuela), are developing a project in partnership with a UK-based NGO, Globalteer, to offer children from Siem Reap, Cambodia an opportunity to learn from the values of sports and play.
Playing For A Goal is a sports workshop that will provide both children and trainers with the necessary tools and knowledge to co-design and execute a sustainable Sports Program for underprivileged children in Siem Reap.
The organizers say that the workshop will be focused on social learning and interaction with the community in Siem Reap and will provide necessary equipments and materials to organize sporting events and teach children about the importance of sports, teamwork and friendship, while promoting a healthy lifestyle.
An important part of the program is Goals For Girls, a section of the project that focuses on the empowerment of young women, not only through play, but also working with them to organize events and teach the youngest kids.
"The message is that sport does indeed have the ability to affect positive change and promote child development", explains Sergi.
"Of course, it should not be seen as a silver bullet to the problem of poverty and disadvantage. Sports are a tool within a broader toolkit, but we believe that an inclusive program can bring together boys, girls, minorities, people with disabilities, and give them all an opportunity to work together for a goal," adds Valentina.
"For many people around the world, sport and play are immediately and inextricably tied to the notion of childhood. Through play children explore, invent and create. They also develop social skills, learn to express their emotions, and gain confidence about their own capabilities. However, for many children in Siem Reap, the chance to learn and grow through sport and play is unavailable, robbing them of some of the most important experiences of childhood," reads a press statement released by the duo.
Sergi and Valentina have set up a crowd-funding campaign and assert that everyone who supports the fundraising campaign will be giving more children the opportunity to join Playing For A Goal.
Read the story behind 'Playing For A Goal' below:
---
By Valentina Cabanzo
Playing for a Goal started last September with a huge desire of doing good and traveling around the world. After months of hard work and a lot of thought we had to choose where to go.
It was never as difficult as this time! We were not choosing our next destination, we were choosing the next place where we would be making a small change, we were traveling with a purpose.
Sergi and I have a map on a wall where we pin all the places we've been to. South East Asia/South Asia didn't even have a pin, so we had to do a lot of research on that area and we ended up with a list of 5 options:
– Thailand
– Vietnam
– India
– Cambodia
– Nepal
After reading a lot about poverty and specific things that need a helpful hand we ended up even more lost, we wanted to do something in each of the cities we were reading about but of course…that was not an option, so we kept up the research and I happened to read a very informative -and eye opening- article that described Cambodia as a country with an incredible amount of orphans, who were not even orphans.
Yes, parents are basically forced to give away their children to orphanages because they are not able to sustain a family of many members. These children are sent to orphanages and, in some cases, the environment that surrounds them is even worse. Some of the people who run these orphanages make sure to keep these children in a bad state to keep the tourists flow and donations high. This creates a vicious circle where poverty, misery, and children become the biggest motor…and of course, education will never be part of their lives again.
We, travelers, have big part of the guilt in this situation since we travel uninformed and think we are doing good when in reality we are making this orphanage industry even bigger and worse.
After picturing ourselves sharing with these children and thinking that our project could become something harmful rather helpful we decided we had to do something legit, through a real NGO and it had to include children's education.
That is how we found out about this beautiful country, famous for its great architecture and huge temples, that in reality is going through a lot of issues of poverty that seems to be aggravated by tourism.
Don't forget that you can always be part of our project by donating to our fundraising campaign.
"Do what is right, come what may"