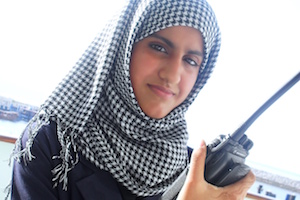 By Adam Pitt
Mir and Hajar are graduates from the International Maritime College Oman (IMCO) in the Omani city of Sohar. Having become friends after enrolling on a four-year bachelor's degree programme in marine engineering they are also blazing a new trail for women's education in Oman, and the Middle East.
"Even in western countries there are not so many women engineers, so I feel privileged to have this opportunity. I enjoy the freedom it gives me and I want other women to follow in my footsteps," says Mir, who like Hajar, is one of a hundreds of women to have graduate from the college earlier this year.
Having been ranked second in a poll on women's rights in the Middle East in 2013, Oman is certainly no stranger to promoting the rights of its female population. It ratified the Committee on the Elimination of Discrimination against Women Treaty in 2006, though there are some remaining issues surrounding the adoption of the treaty and conformity with Islamic Law. However, while 29 percent of the Gulf state's 1.3 million women are employed, securing a career in engineering is still far from straightforward.
According to an article published in the Times of Oman, there are no discriminatory provisions in the Oman Labour Law as pertaining to the employment of women. Nevertheless, there are restrictions in place to avoid 'problems' and 'complications' when it comes to hiring women in certain industries and locations. In the case of female engineers, it remains the responsibility of the prospective employer to convince the Ministry of Manpower of the necessity of appointing a female engineer. Only when the ministry is convinced, will it issue clearances, and even then there is no guarantee of appointment.
Despite these obstacles, Mir and Hajar have already secured placements in the industry – a testament to their fine standing within their cohort and the strong networks that the college has built over nine highly successful years. With students able to choose from courses in Marine Engineering, Process Operational Technology, Port Shipment and Transport Management, and Maritime Studies, they are also part of a generation of women who are slowly turning the tables in terms of tertiary education in the Gulf.
The same can be said of Oman, where female literacy rates are in line with the global average, and where school life expectancy for women is at least 11 years. Yet, while 28 percent enrolment in tertiary education is respectable for the Middle East, Mir and Hajar are still in the minority, although this is something Head of Maritime Department at IMCO, Patrick Wells, said is definitely changing.
"We have around 1,700 students at the moment and we fully expect that to grow to 2,000 when our new students join us in September. An increasing number of them will be young women who aspire to become leaders, and just like in other countries they are often among our best achievers," he explains.
"Unlike Mir and Hajar, most of these women will choose to study process operational technology, port, shipping and transport management, or maritime studies. Regardless of what they study, our aim will be to nurture them and ensure they get the support they need to survive in a highly demanding industry.
"It can be quite a culture shock for some of our students, but our drop-out rate is very low," he adds.
As the only education and training institute in the GCC region to offer diplomas, degree programmes, and short courses to both male and female students seeking to gain entry into maritime, shipping, port, transport, and petrochemical industries, IMCO receives fee paying and government sponsored students.
However, while both Mir and Hajar received government scholarships to study at the school, their lives before could not have been more different. Sitting side by side, Mir describes her long-held passion for horse riding in the nation's capital and home to 1.2 million people, Muscat. Hajar on the other hand, says she likes spending time in her garden in the small village where her family raise their livestock.
"I am from a small village and enjoy relaxing in my garden. It was definitely hard to make the adjustment when I moved to the city and I feel like I only survived because of the support I received from my father. He believes in me and that makes me want to be successful," says Hajar, who comes from Al Rustaq.
IMCO Head Mr. Wells says Hajar's experience is not unique and puts it down to the change in education culture, from the national set-up to a more European style that benefits from the strong Dutch influence present in the region since Port of Rotterdam embarked on a joint venture with the adjacent SOHAR Port and Freezone in 2002. But, he says, this change is vital if graduates are to compete globally.
"Whether male or female, when I send someone to sea, they need to be able to do a job. If they can't they put their own safety and that of their peers in jeopardy, and so we treat everyone equally. We are the only school in the Gulf to send our trainees to sea so they can gain sufficient experience, and each year we help 85 percent of our students to secure industry leading training programmes. This has been one of the keys to our success, and is why my inbox is full of new enquiries for our graduates," he says.
Another key to the college's success is its strict adherence to international maritime training standards, with the only difference between its graduates and those of the US, EU, and China, said to be the family ties to the industry often seen among new students. Nonetheless, the calibre of IMCO graduates has seen links established with the likes of Shell, Dubai Dry Docks, Salalah Port, and of course, SOHAR Port and Freezone. In turn, this has increased student interest, which has experienced 20 percent growth.
As Hajar's case shows, access to the school is not reserved for the elite. In her own words she describes how her cousin had studied at the school and told her about its reputation within the industry. At which point she says that she was determined to go there – determination that inspired her father's support.
"My cousin studied here and said that it is a great school, and that many women had graduated and gone on to work at sea. I knew I had to come here and am determined to be successful," she says.
Meanwhile, word of the school's reputation continues to spread unrestrained with students hailing from Oman, Qatar, Bahrain, Egypt, Jordan, Yemen, Kazakhstan, India, Bangladesh, Nigeria and Cameroon. This has led to a wide gulf in the financial status of those attending, but this adds diversity to IMCO's unique learning experience, according to Mr. Wells. Given the prize at the end of the line, Mir and Hajar say they and their classmates are quite active in helping each other out when someone is in need.
For South African Mr. Wells, who joined the college in 2012 after fulfilling his own personal ambitions in the Navy, merchant marine, port industry, and education, his attention will soon turns to helping the next group of students and create the first generation of women seafarers to set sail from Oman.
IMCO is owned by the Government of Oman and the STC Group in Rotterdam, the Netherlands.