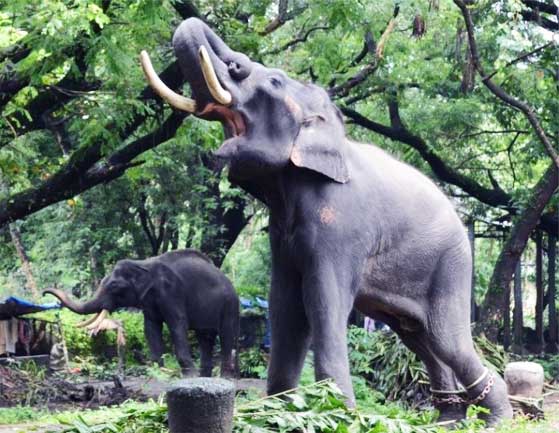 By Jameela Freitas
Global summit CITES (Convention on International Trade in Endangered Species) CoP17 – the 17th meeting of the Conference of the Parties – was held in Johannesburg earlier this month. The meeting that occurs just once every three years is the world's largest and most influential meeting on international wildlife trade. Delegates met to decide CITES' stance on the future fate of endangered animals across the globe, including that of the world's elephants.
All 182 nations at CITES agreed to close all domestic markets of elephant ivory that contribute to poaching or illegal trade – a step in the right direction to protect elephants. However, to conservationists' dismay, 28 EU countries, Norway, USA, Canada, Russia, Korea, Oman, Saudi Arabia, Japan and China voted against placing elephants on a list of the world's most endangered animals called Appendix 1, which gives the highest level of protection. The classification would have banned international trade of the species and would have significantly helped in the fight against poaching.
In Asia, the estimated population of surviving elephants is mere 40,000.
Figures obtained from the International Union for the Conservation of Nature (IUCN) show that the African elephant population has dwindled to around 470,000. In Asia, the estimated population of surviving elephants is mere 40,000.
The threat to African elephants is a huge concern. Thirty percent of Africa's elephants have been slaughtered in just seven years, according to the Elephants Count Great Elephant Census. What is less widely known is the urgent plight of Asian elephants. The remaining number of elephants in Asia equates to just five percent of the total surviving population of African elephants. The number of Asian elephants is so dangerously low that they could be extinct within our lifetime.
Figures obtained from the International Union for the Conservation of Nature (IUCN) show that the African elephant population has dwindled to around 470,000. Its African Elephant Status Report demonstrates that poaching is behind the worst elephant losses seen in last 25 years. That said, in Asia, the estimated population of surviving elephants is mere 40,000. Their numbers have decreased by 50 percent in the last 60 years alone. It's a huge decline from the one million Asian elephants that lived in the beginning of the 20th century. It is estimated that up to three million elephants roamed around Africa at that time.
The majority of the elephant population remaining in Asia today is situated in India and Sri Lanka, at around 30,000. The rest spread across other countries. For instance, Thailand, a tourist hotspot, has approximately 3000 elephants.
Approximately 15,000 Asian elephants live in captivity as work animals, mostly in India. In contrast, Africa has around 500 captive elephants.
Major Factors Causing Elephant Decline
There are five major factors causing the decline of elephants. Firstly, the loss of natural habitat – the destruction of forests  and savannahs. Urban, industrial and agricultural expansion squeezes elephants into smaller habitats. In turn, the diminishing number of elephants in their natural forest habitat has a long-term, detrimental ecological impact. Mass deforestation is not only caused by development, but also by the lack of forest growth, which elephants' presence naturally feeds. Elephants and forests have a mutual dependency on one another in order to thrive.
Ecologists call elephants the 'mega-gardeners of the forests', sustaining the ecosystems by dispersing seeds of the foods they eat and also producing natural fertiliser. Conservationist Ian Redmond explains that elephants' large size, appetite and migratory habits means they disperse larger seeds, more of them and a wider variety of tree species than any other animal. In tropical forests, up to 95% of trees have seeds dispersed not by wind or water but by animals. The large tree species that elephants disperse suck in huge amounts of harmful carbon per unit volume of wood. Hence, elephants are vital also for healthy rates of carbon storage in African and Asian tropical forests.
A second factor is the destruction of elephants' migratory routes, also known as 'elephant corridors', for agriculture and development. Migratory routes play a crucial part in the way elephants find new mates and breed. Currently a wall is obstructing a crucial elephant corridor in Northeast India. It's already taken the lives of 12 elephants as they desperately try to get through to their connecting habitat by banging their heads against the wall.
The third factor, closely linked with the previous ones, is farming – elephants frequently lose out through clashes with farmers and communities over the destruction of valuable crops and property. For instance, elephants in Malaysia and Indonesia who disturb highly valuable palm oil crops are trapped or killed. The World Wildlife Fund (WWF) estimates over 100 Sumatran (pygmy) elephants were killed in the Riau province of Sumatra between 2004 and 2014. It is estimated that just around 1,300 elephants are left in Sumatra and the International Union for the Conservation of Nature (IUCN) lists them as "critically endangered", next on the scale is "extinct".
As the natural habitats of elephants shrink every day, the international community must do more to protect elephants' diminishing numbers before it's too late.
The factor attracting the most media attention, poaching has a colossal impact on the numbers of remaining elephants in Africa. Asian male elephants have plummeted in the past due to ivory poaching (female Asian elephants don't have tusks). But now the killing of elephants for ivory in Asia is much less significant than in Africa, where an estimated 30,000 elephants are decimated every year. Central Africa has reportedly lost 64 percent of its elephants in a decade. Recently in Asia, charity The Elephant Family found evidence of an increasing demand for elephant skin exported to China and Myanmar, sold for 'medicinal' use or to make jewellery and trinkets.
The fifth and arguably the most harrowing factor, is the capture, abuse and premature death of elephants used in the tourism industry. Ill health, lack of breeding and preventable deaths of captive elephants are caused by beatings during 'training', neglect, trauma and unregulated, exhaustive commercial exploitation. Baby elephants across Asia are snatched from their mothers and forced to perform tricks. They are paraded at religious festivities or serve their whole lives giving monotonous rides in the lucrative tourism trade. Holidaymakers from Western countries, such as USA, UK, Russia, Israel, Australia and EU countries, bring a small fortune to those willing to shackle, tame and enslave elephants for their amusement.
What Should Be Done?
Duncan McNair, founder of the charity Save the Asian elephants (STAE), explains how Asian elephants are captured and put through a brutal process called 'pajan', which literally beats them into submissiveness to facilitate their use at attractions, festivals and temples:
"Baby elephants are stolen from their mothers and caged in a small wooden enclosure for months on end, tied with ropes and chains and relentlessly beaten and stabbed with sharp bullhooks by elephant handlers. At the Guruvayoor Temple in Kerala, Southern India, several elephants have been beaten to death or die from untreated ill health and neglect."
Sangita Iyer, the director of an elephant documentary Gods in Shackles reported that from January to October this year alone 18 elephants have died from either torture or neglect in Southern India. According to information Iyer received, the latest elephant to die in the state of Kerala was suffering from lungs and intestines afflictions. The elephant was used to parade for the Ganesh Chathurthi festival, which is, ironically, an important Hindu celebration paying respect to the elephant deity Ganesha.
Nonetheless, campaigners and conservationists seem determined to end the abuse, exploitation, neglect and murder of elephants across the globe. They call on people to urge their governments to implement policies to protect elephants and to designate more reserve forest land as protected sanctuary for the beleaguered creatures.
In Western countries a ban on advertising of elephant tourism, until proper regulated standards are upheld, would help curb the spending power of tourists. The international community must work together to clamp down on the snatching of wild elephants for entertainment. Plus, it must dispense the harshest possible penalties on those who conspire in the killing of the animals to create, sell and buy elephant products. Agricultural businesses need stricter regulation and incentives from governments to create strategies to co-exist with elephants.
A seed of change is beginnng to grow. The world's largest travel website, TripAdvisor announced this month that it will no longer allow advertisements for abusive animal attractions, including elephant rides. In Nepal one elephant resort is promoting 'animal-friendly tourism' – moving away from elephant rides to tourists viewing elephants living free in their natural habitat. In order to save awe-inspiring elephants and the beautiful ecosystems they sustain, the momentum needs to keep growing. The CITES vote is disappointing. The international community can and must do more to protect elephants' diminishing numbers before it's too late.
(Jameela Louise Freitas is a U.K. based journalist and charity communications professional. In addition to Save the Asian Elephants, she has also worked in communications for Amnesty International UAE and WaterAid.)
---