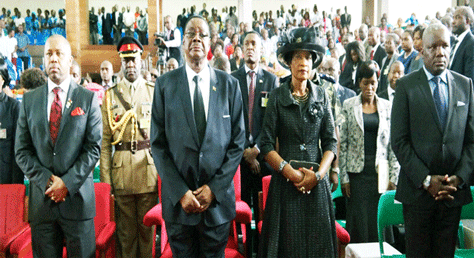 By WINSTON MWALE
The clergy in Malawi on Sunday 8 February, 2015 organized government-initiated national prayers in the commercial city of Blantyre to pray for the flood victims.
Held under the theme:"God is our refuge and strength-a very present help in trouble", the prayers attracted a number of dignitaries, including Malawi's President Peter Mutharika, Vice President Saulosi Chilima, and leader of the Opposition in Parliament, Dr. Lazarus Chakwera.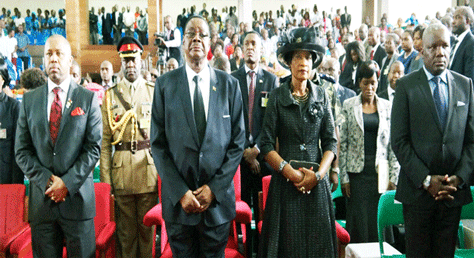 Before leading the congregation in observing a minute of silence in honour and memory of people who were killed by the floods, President Mutharika read from John Chapter 11 verses 25 and 27.
President of Seventh Day Adventist in Malawi, Pastor Frackson Kuyama, presented a sermon during the ceremony.
"God is our refuge and there is no other being that we can rely on apart from Him. If we are facing any problems, we have to say it to Him," Kuyama said.
Reverend Alex Maulana, Chairperson of Malawi Council of Churches (MCM) said Malawi is currently passing through trying moments.
"There's need for every Malawian to remember the victims in prayers always," Pastor Maulana.
During the national prayers, Malawi Minister of Information, Kondwani Nankhumwa, disclosed that the cabinet has approved the National Disaster Risk Management Policy which has been in draft form for years now.
Nankhumwa said, "Am pleased to announce that on Wednesday last week the president called for an emergency meeting where Cabinet approved the policy, ready for discussion in Parliament."
Latest information indicates that 104 people were killed by the devastating floods, and about 1 million have been affected.
Close to 172 people are still missing.
With 181 schools occupied by displaced people, the country's education has also been affected by the floods.