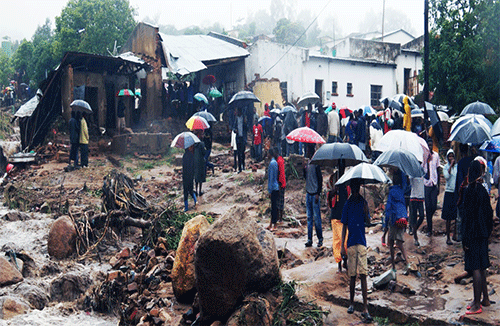 By WINSTON MWALE
As Malawi reels from the worst disaster floods in decades, a group of United Nations human rights experts has urged the international community to rapidly provide all necessary funding and assistance to the Government of Malawi and humanitarian actors in response to the disaster, which has already claimed more than 70 lives.
Speaking in Geneva Switzerland on Friday, UN Special Rapporteur on human rights of internally displaced persons, Chaloka Beyani, said the flooding has displaced large numbers of people.
"The flooding presents massive and complex challenges for Malawi," Beyani said.
Beyani said evacuation of affected populations should be undertaken where necessary to save lives, and an effective humanitarian response is essential to address the needs of internally displaced people and others affected.
He said, "Helping people to return and reconstruct devastated homes – when circumstances allow – will be just one challenge among many to rebuild lives and livelihoods and should be part of a broader recovery plans."
Over 600,000 people have been affected in 15 districts of Malawi since early January with 79 dead and hundreds more injured or missing.
Malawi has 28 districts.
At least 174,000 people have been internally displaced in the three worst hit districts, with the total number likely to be far higher.
Beyani said a Preliminary Response Plan to the emergency developed by the Government in partnership with aid agencies, estimates that USD 81 million is urgently required to respond to essential shelter, food, healthcare, water and sanitation and other urgent needs.
"Only around a quarter of this amount has been received to date," Beyani said.
Malawi Government said the floods will likely bring many negative socio-economic effects to the country's economy.
In his state of the nation address on disaster recently, Malawi President Peter Mutharika, said, "The floods have caused severe damage, including the loss of livestock, the destruction of farmlands, houses, bridges, schools and health facilities, as well as damage to the water supply, irrigation systems, and food storage and processing facilities."
Due to the devastating floods, entire communities have been cut off from health services, safe water and other critical basic services, rendering women and children particularly vulnerable.
"The country's economic growth will be lower than 5.8 percent projected earlier for 2015. Preliminary assessment shows that the damage caused by the flood disaster to the economy is estimated at K24 billion," Mutharika said.
Meanwhile, a number of NGOs, both local and international, have been sending aid to the flood victims scattered in the affected districts.
The floods started hitting the country since mid-January 2015.
[ts_fab]