By ALEENA BANIYA 
Poverty and unemployment encourage thousands of Nepalese youth to leave home to find work in the Middle East every year. While many of them find a way to earn a living and support their families back home, some of them end up in heart-breaking tragedies. It has become an ordinary activity for the country's only international airport, Tribhuvan International Airport, to receive dead bodies of the migrant workers arriving from the Middle East every other day.
Not everyone can survive the extremely hot desert temperatures especially if they are made to work outdoors for 14-16 hours a day. Unsafe work conditions provided by the oil rich countries have caused lifelong injuries to countless workers.Poorly given compensations to the injured or sometimes a total absence of compensation put the victims and their families into bigger problems.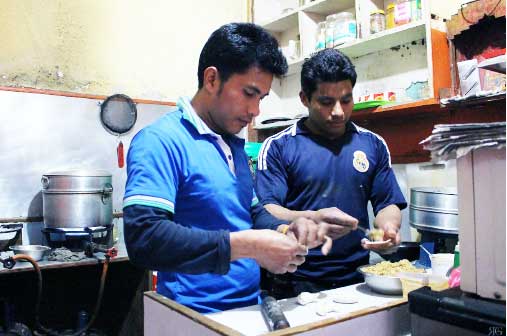 The famous Qatar World Cup 2022 issue is no new news to anyone of us. The death toll of the migrant workers who lost their lives in the mega construction site has reached hundreds and the numbers are increasing everyday. Despite all these facts, Nepalese youth have continued to bid farewell to their families and friends for over many years. But, the scenario might have started changing a bit. Not many, but some have at least understood the big price they might have to pay for the so-called economic migration. Just before the April 2015's massive earthquake in Nepal, I came across two such returnee migrants who shared their stories, their experiences and their opinions with me.
Amrit Marga is a busy street in the touristic Thamel area of Kathmandu where the two Shrestha brothers run a small restaurant. Lal Bahadur Shrestha, 31, and Nagendra Shrestha, 28, can be found in the restaurant every day from 7am to 9pm busily serving customers. 'Our place is tiny but we guarantee to serve you fresh food here 'said Lal rolling out the dough for more Mo:mos (Nepali dumplings). I decided to try their food and ordered a plate of Mo:mos. True to his words, the Mo:mos were fresh and very delicious.
Originally from Sindupalchowk, Lal and Nagendra started their little eatery in 2013. 'We don't make a lot of money from our business, but we make enough to live a decent life in a city like Kathmandu' answered Nagendra when I asked him how the business was. Lal proudly added, 'I have a four year old son and I can afford to send him to a good boarding school'. Both said they are happy in Nepal and they do not want to go back abroad in search of work or better lives anymore.
At a tender age of just 18, Lal travelled to Malaysia in 2002 to work in a factory which produced electronic goods. He had learned about the agents that are commonly known as 'man-power companies' from newspapers. He had to pay a sum of Rs. 90,000 (approximately 900 Euros) to an agent to secure a visa, which he later found out was for free to all migrant workers.
'Man power companies are scam, they charge us for nothing and they don't care where we get the money from' he expressed his disappointment. The money he had invested in the hope of a bright future was a debt. His work in Malaysia as a labor was moderate although it did not pay as much as he was promised by his agent and the company. He managed to live and work in Malaysia for 5 years and he settled his debt within the first year. I told him he must have been happy there to have lived for 5 long years. He said 'the only happy moments for me while I was there were when I Skyped with my family'.
With his little savings Lal returned to Nepal in 2007 and went back to his village. After few months he got married to Saraswoti Shrestha and came to Kathmandu. He got himself a job in a restaurant as a cook. Initially, his plan was to settle in Kathmandu with his wife but the salary he got was so low that soon his poor financial condition started taking a heavy toll on them. After spending three years of hardship in Kathmandu, frustrated Lal decided to give foreign employment another shot. In 2010, investing Rs. 1, 00,000 (approximately 1,000 Euros), again through an agent, he flew to Oman. I was surprised why he chose to hire an agent when he had already learnt that they are fraudulent. He said 'I am barely literate and I had no confidence to do all the paperwork. Besides, in Nepal one can do all the necessary processing only through agents'.
This time his work was at a catering service as a cook. He was happy about his new job because cooking is his passion. But his happiness didn't last long. On the first day of his new job he found out that he was supposed to work 14-16 hours every day, even though the contract said he was expected to work only 8 hours during weekdays.  Often in the extreme temperature of 40°C, Lal worked outdoors catering for 3 years with very few days off.
See  Also:
He did not miss the opportunity to share his worse experience in Oman, ' I fell sick once and my sick leave was not approved so I had to go to work despite my weak condition, even my friends ignored me, perhaps they had their own reasons. I missed my home and family the most at that time.' In 2013, he decided to return to Nepal and never go back again.
Shy yet humorous; Nagendra's story is different than Lal's. Following his brother's footsteps, he went to Saudi Arabia in 2010. 'I was young and foolish back then, I didn't know what I wanted in life, most of the youth from our village including my brother had been to other countries and I wanted to go too' he said with a smile on his face. Nagendra worked at a coffee shop in the mountainous city of Abha close to the border to Yemen. He mostly worked indoors and the climate was mild so his work conditions were not as bad as his brother's. Like Lal, he was also disappointed by the fraudulent agent because he got much less salary than he was promised in Nepal. '2 years were enough for me to experience foreign employment, there was no social life and the wages I got were meager so I decided to return to Nepal in 2012' said Nagendra while chopping onions.
After returning to Sindupalchowk, he stayed unemployed for a year because he couldn't find a job. He was worried that he might finish whatever little savings he had brought back from Saudi Arabia. In 2013 when Lal returned home, the duo came up with the idea of starting a business in partnership. Both of them had some knowledge of restaurant business since one had worked in a café and the other had worked as a cook so they decided to start a restaurant in Kathmandu. Now their restaurant is 2 years old and they are happy with whatever profit they are making. They are proud that they have established a business with the capital they had earned all by themselves and neither the state nor any organization had to help them.
Lal and Nagenda wish to give a message to all the youth in Nepal who want to go abroad for foreign employment that rich countries are not paradise and if you are determined to work in Nepal as hard as in those countries, you will earn twice as much as you may earn there. They assert that Nepali youths must get some education before leaving abroad, otherwise Nepalese will continue to be mistreated, looked down upon and cheated in foreign lands.
(Aleena is a graduate of Journalism and Mass Communication from the University of Tampere. She is interested in writing and reporting about migration, women empowerment, and human rights issues. Aleena is from Nepal and currently lives in Tampere, Finland.)