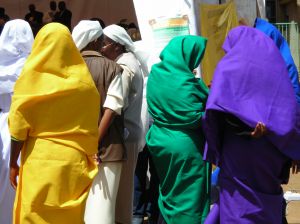 With failed rains, conflict and poor infrastructure, many communities in South Sudan struggle to get enough to eat.
Justin Madut tends his new groundnut and sorghum fields. Justin Madut's family was one of many badly affected by a long drought that lasted for six months. They had only one meal a day during the drought. He even sold his animals to meet the needs of his five growing children. Now, with the help of an Oxfam project, things are starting to change.
"We have been suffering from hunger due to long drought in the recent years. I am hoping that with the diversification of food sources, we can cope with the drought without being hungry," says Justin, a 32-year-old farmer from the remote village of Malual Kuel in Gogrial East County.
Improving farming practices
Justin's family is one of the 2,235 households in 11 villages that have benefited from Oxfam's food security program, distributing seeds and tools. "Oxfam's workers are assisting us not only with the seeds and tools but also giving us training to improve our farming practices," he adds. With the seeds, Justin is now growing different crops such as sorghum, groundnuts, cassava and a variety of vegetables. He is a member of "seed multiplier" groups targeted by Oxfam to increase production of groundnuts and sorghum.
Farmers in this area have been used to the conventional farming system. They till the land using a simple and sharpened piece of metal called a "pur", which takes a lot of time and effort before they can finish cultivating a small portion of the field.
Ox-ploughs and vegetable gardens
Justin's wife, Abang, with sorghum just harvested from their farm. Oxfam is addressing this situation by introducing ox-ploughs to groups of farmers, and training them how to operate and maintain the new ploughs.
The project also promotes vegetable production by women. At least 30 women in ten villages are receiving training and support to grow vegetables, with each group receiving six varieties of vegetables and gardening tools.
Abdullah Ampilan/ September 2011
Local farmers also raise cattle as a source of food and income. During drought there is a high mortality rate of these animals. Tribal conflicts are also common because of competition for grazing grounds and water sources. (Source Oxfam UK)