By RAY MHONDERA 
Sitting with my Somali guest, *Ahmed Jibaud in the xenophobia hit township of Soweto, South Africa, I was astonished. Despite the shrills of teenage looters eight yards away, he kept staring at his Samsung flat TV set, a spotless iPad, and an internet-enabled Sony smartphone – in one go.
With violent anti-immigrant rage gripping Soweto – targeting Somali-owned mini shops – I was baffled: why do some immigrant Somalis idle the whole day scouring TV for 2015 election updates in the UK; the heat waves in Northern Mexico; wind forecasts in Spanish Morocco; rallies in German cities or the price of oil on the New York Mercantile Exchange?
These appeared like irrelevant and poshy topics for most Somali immigrants who scrap a living in far off South Africa where sleazy police officers demand bribes, the state is seen as hostile to refugees and unchecked mobs conspire to make their stay as unwelcome as possible.
Until I realized, I was totally wrong.
"We Somalis, by nature, are people in transit," revealed Ahmed.
Ahmed is a grocery supermarket owner in Dobsonville, Soweto. Two weeks ago his halal meat and fish store was cornered by drunk looters. A human shield of local mothers batted away the attackers with garden forks and rocks in a rare show of solidarity with Somalis.
"Right now I'm surfing my iPad for election debates in the UK  general election. I pray for a Labour win," he says.
What's the significance to Ahmed's life in a dusty street avenue in Soweto?
"A Labour win means possible loosening of asylum policies in the UK. Hopefully."
He flips the pages of his passport. "As a Somali I'm ready to move. South Africa wants us out."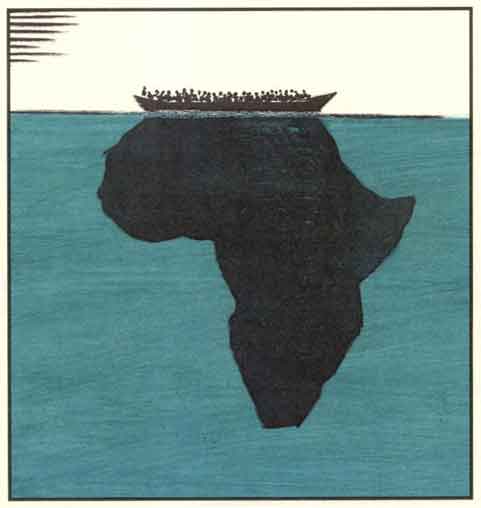 There are 50 000 Somali citizens living in South Africa according to Amir Sheik, chairman of the Somali Board of South Africa.
Ahmed's fear is not unreasonable. As anti-immigrant riots gripped Soweto and other impoverished townships, a senior government minister fueled the rage when she suggested Somali owned shops are shutting out black entrepreneurs so they must either share their trade secrets or risk a "disaster."
Ahmed plasters his finger on his smartphone to receive a Skype call. It's his 38 year old cousin. He lives in Munich, Germany and bears no good news.
Anti Islam rallies are gaining momentum in Germany, says his cousin, his sullen face flashing on the video screen.
Ahmed tears a paper from his notebook and scribbles. He jots down the opinion poll numbers of far right parties in Germany, the Netherlands and France.
"This is not the best time to seek refugee protection in central Europe," he says. "Anger  against us is high in France after the Jewish kosher supermarket killings."
At that time his uncle *Tabor Baheem drives  in from noon prayers at the Nizamiye Masjid mosque – South Africa's largest.  Tabor too has become an expert of sorts on world events affecting Somali émigrés.
See Also: There is Hope for Guatemalan Children, They Should Stay Home
Tabor points at Sky Weather bulletin on the screen. "As Somalis we don't watch TV purely for entertainment as you do."
He then points to a weather graph Ahmed is sketching on an iPad sheet.
"He is recording weather patterns off the Morocco coast from February to June. No hard winds or rough waters, it's going to be better sailing year."
Ahmed, who has lived in Zimbabwe and Botswana on his 2400 miles journey to South Africa has received €3300 via Western Union from his cousin in Germany. H says he will pay £700 to fly from Johannesburg to Rabat, Morroco in April. €2200 will be paid to a sophisticated network of human smugglers who will ferry him across the Mediterranean and hopefully into the Spanish enclave of Cueta.
He is shaken in glee. "That's why I spent nine hours a day watching the BBC World Business. I don't want currency fluctuations to affect my airfare."
If Ahmed makes it across the Mediterranean, he hopes to work menial jobs in Europe to repay his cousin. "My cousin has emptied his savings for me. He's unbelievably kind," He says.
Does Ahmed fear the perils of an informal sea journey across the Mediterranean? After all hundreds of migrants from Africa have perished while in rough Mediterranean waters in a futile bid to reach Spain or Italy.
"How long will old mothers protect my store here in South Africa?" He points out, "brand new malls are being built. They shaft out our small shops. Garden jobs even for local South Africans are hard to obtain."
"I'm no politician but I must leave while I'm alive."
"Somalis are one of the most marked groups for xenophobic violence in South Africa," says Piet Bambo, a sociologist at the Community Integration Platform.
See Also: Latinos in London: Pride, not Prejudice
While at it, Ahmed's shop is suddenly crowded. His friends *Jan Yasim and *Faizal Attar walk after parking a spluttering motorbike.
They have a stark different mission to Ahmed's, but the same goal – a new life in the West. They scroll down a PDF presentation on their Samsung Galaxy tablets. "We want to cross into America via Mexico."
They beat their chests in agreement: "Of course."
There is a wreck in their plan. On the visa application form from the Mexican embassy in South Africa there is a tricky question: "Do you intend to visit North Mexico?"
"We'll tick no to that question," says Faizal, bold.
"We'll pose as students for four months in Mexico. After, we cross when the weather is less frosty in the US."
Faizal and Jan are crafty. They have sold their two Mazda cars and two vegetable shops in Pretoria, north of Johannesburg to afford the airfare to Mexico and payment for Mexico's gangs who smuggle immigrants into California.
Ahmed shakes his head. "This could be money lost in futility," he warns them.
He switches another Samsung TV set and catches Richard Quest on a recorded CNN Travel Show documentary. The narrator describes killings of would-be refugees by violent Mexico gangs who battle for control of lucrative routes.
Robberies, heat exhaustions, falling into wrong smugglers' random executions and assaults against women are all dangers fostered on immigrants by drug gangs who man routes from Mexico into the U.S.  The US border agency too is clamping down on illigal immigrants, deploying drones and electric fences to chase away refugees who cross via its south west territory.
"Europe is the best choice to smuggle yourself by boat, I tell them," says Ahmed wanting to convince them.
But Jan and Faizal are adamant. North America, unlike South Africa offers rich pickings, they insist.
"An uncle picking seasonal flowers  bought two houses in Mogadishu, a seven hectare land. He is marrying a beautiful wife this July," says Faizal.
Those who live in the diaspora are viewed with envy in Somalia. As the country enjoys relative peace in the last two years, Somalis living in places like Dubai, Europe, the USA and Australia are building hotels, restaurants and snapping up expensive pieces of real estate.
Ahmed stares on his TV for the UN's latest figures on immigration in Europe. He scans country by country, "I'll settle anywhere, Latvia, Hungary or Portugal, but Norway…Norway is friendly to refugees."
I  snatch the remote control from Ahmed who scoffs over a dish of fried corn. I realize that I've learned a new way of watching TV.
(Ray Mhondera is Global South Development Magazine's global development reporter. His reporting interests include habits of migrant Somalis.)