Weaving a Better Future in Rural Nepal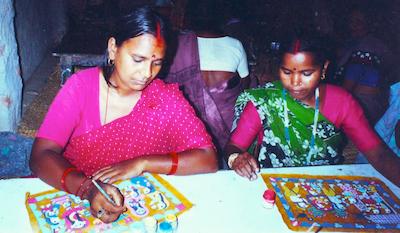 by SEEMA PARWEEN
Janakpur Handicraft Centre in Nepal has been supporting economically backward and rural women by giving educative classes, conducting awareness and employment programs for women and providing them with the opportunity to earn using their indigenous knowledge of art.
"Women's empowerment cannot take place unless women come together and decide to self-empower themselves. Self empowerment should be all round in nature." Read More
In Focus
Latest
10 Jan 2015, Helsinki, Global South Development Magazine has announced the names of 26 new development reporters as part of its 2015-2016 Development Reporter program. The reporters will report on different international development issues from different parts of the world for a fixed period of two years. The newly selected reporters that will join GSDM's thriving global community are: Abdiwahab M. Ali Ahmed Allouch Amrita Vijay Jain Bilal Bhadur Cleophas Monanka Daniel Ryan Dilrukshi Handunnetti Eric Ojo Hanna Tabea Voelkl Irene Kruse Jelena Novakovic Joel Okundi Obengo Kibathi Irungu Lacchindra Maharjan Luciana Grosu Noor Ul Islam Rado Harintsoa Rakotosamimanana Rajendra Senchury Ray Mwareya Robert Kibet Samir Bol Sanja Colic Sayed Jalal Sumera Reshi Thulasi Muttulingam Winston Mwale This season GSDM received altogether 367
Read more ...
// Cooperation among developing countries is nothing new. For centuries, they have been helping their neighbours in need, specially at times of humanitarian crises. However, since the early 1990s, the idea of south-south cooperation has expanded rapidly. Today, its presence in the

// by Saad Ali Baloch It's been 17 years living here. A multifarious place where heterogeneousness prevails. People here are lovers, people are haters, people are innovators, people are imitators, people are arbitrators, people are instigators, people are investigators, people are spectators,

Dubai, UAE, December 2014 – 'The Bayt.com Status of Working Women in the Middle East' survey, recently conducted by Bayt.com, the Middle East's leading career site, and YouGov, a research and consulting organization, has revealed that 51% of women in the region consider recruitment and
Interviews
When many of her friends and colleagues were busy setting up their ambitious careers in big multinational companies, Nisha Singh, a management graduate of London Business School, UK and an electronics engineer of Mumbai University, decided

Read more ...

// // To the outside world, Rwanda still exhibits an image of genocide, massacres and ethnic tensions, however, things are changing fast within the country. Rapid economic growth followed by successful national reconciliation has taken

Read more ...

// When it comes to socio-economic development, Sri Lanka is taken as a remarkable example in south Asia. That development, however, is not equitable and neglects the Tamil minorities, says the Sri Lankan human rights activist, K.M.

Read more ...
Featured
      Jacob Juma, the South African President, once said that HIV could be prevented by taking a shower right after an unprotected sex. "Circumcision is also not just done for the purposes of HIV prevention but also as a way of being hygienic. A man who has been circumcised will reduce the chances of his wife being infected by the bacterium found under men's foreskins which may cause cervical cancer. Men  will also have the benefit of satisfying their female counterparts better as there is no premature ejaculation" said Aunty Patience. // by Jasen Mphepo A few
Read more ...
While the attacks at Charlie Hebdo must be condemned, we should also reiterate that freedom of speech is not about systematically attacking certain communities and faith systems. It has its own

By Innocent Kazembe When it comes to the DR Congo, people easily think of vast mineral reserves, ongoing conflicts and a kind of perpetual misery. For Global South Development Magazine's DR Congo
Get a copy of GSDM right away when it is published.
*** An Islamic sect who believe in a metaphorical 'John the Baptist' figure are still suffering violence and abuse after decades of persecution.

Read more ...

As the Iraq War officially ends, the West proudly envisages a population of grateful, liberated Iraqis starting anew. In reality, an epidemic of epic

Read more ...
Donate
Show us some love by donating whatever you can!
Archive