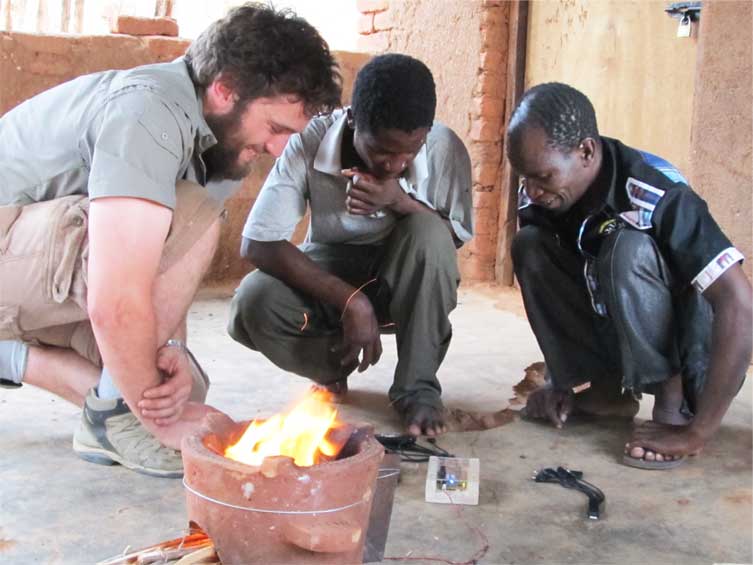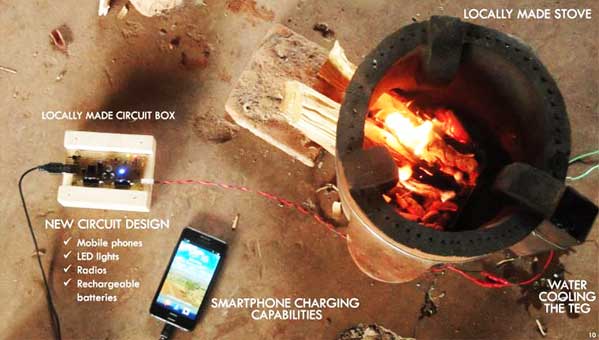 An engineering research team, led by Dr Anthony Robinson at Trinity College Dublin, has designed a locally assembled, clean and inexpensive cookstove for use in the developing world that converts a small portion of its heat into usable electricity. The μPower (pronounced as "Empower") Cookstove, having completed its trial phases, is now being crowdfunded on Indiegogo in order to finance its first run of mass production.
Dr Robinson and his team set out to produce a hybrid cooking and electricity generating solution that will raise the quality of life and mitigate environmental damage in areas where people must rely on open fires in order to cook their meals. Rural Malawi, where 90 percent of the population lives with no access to electricity, was chosen as the test site for the project. "It has to be something people can make and sell in Malawi and that others will want to buy," says Dr Robinson, hoping that the cookstoves will become a local source of income for the people who have been making and using it.
The design is affordable and sustainable because the stoves are produced from locally available clay. The simple clay stove burns twice as efficiently as traditional open cookfires, in turn reducing the time, risk, expense and deforestation involved in sourcing fuel. Importantly, it also emits much less smoke than open cookfires, greatly diminishing the risks of injury and disease from smoke inhalation.
See Also: Restoring Nepal With Solar Lamps And Clean Water
An attached locally manufactured thermoelectric generator (TEG) system converts heat from cooking into a source of electricity to power mobile phones, lights and radios, with a charging capability similar to that of the USB port on a standard laptop. This will allow people to stay connected, earn extra income, study or enjoy a bit of down time, all without having to spend time and money sourcing additional fuel in order to access light and electricity.
"During our five-­‐year trial period on location in rural Malawi, we listened closely to the people who live in the test villages because they know best what suits their own needs. The result is an integrated cooking and charging solution that is inexpensive, easy to make and repair locally and twice as fuel efficient and much cleaner burning than the traditional three-­‐stone open cooking fires that have been in use in the region up to this point," says Dr Robinson.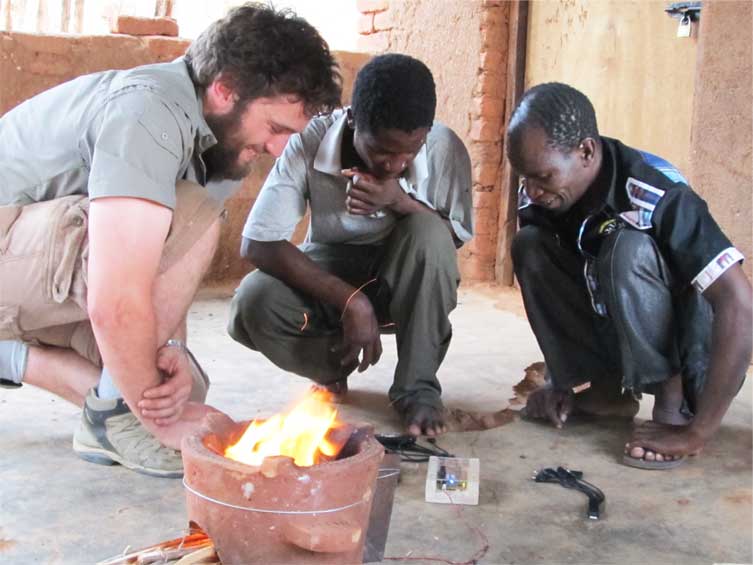 Dr Robinson believes that this is a small yet significant step towards alleviating energy poverty in the developing world. In order to make it accessible to anyone and everyone, the technology is being run on the open source model, meaning that there are no patents and all data and technical specifications are openly available.
To finance the cookstove's initial production run, Dr Robinson launched an Indiegogo crowd funding campaign on Feb. 11, 2016. You can learn all about the project and make a contribution to the campaign by visiting The μPower Cookstove's crowd funding page.
See also: The 10 Most Notable Environmental Justice Campaigns from Around the World